Adventures in the Finnish Lapland with kids – Part 1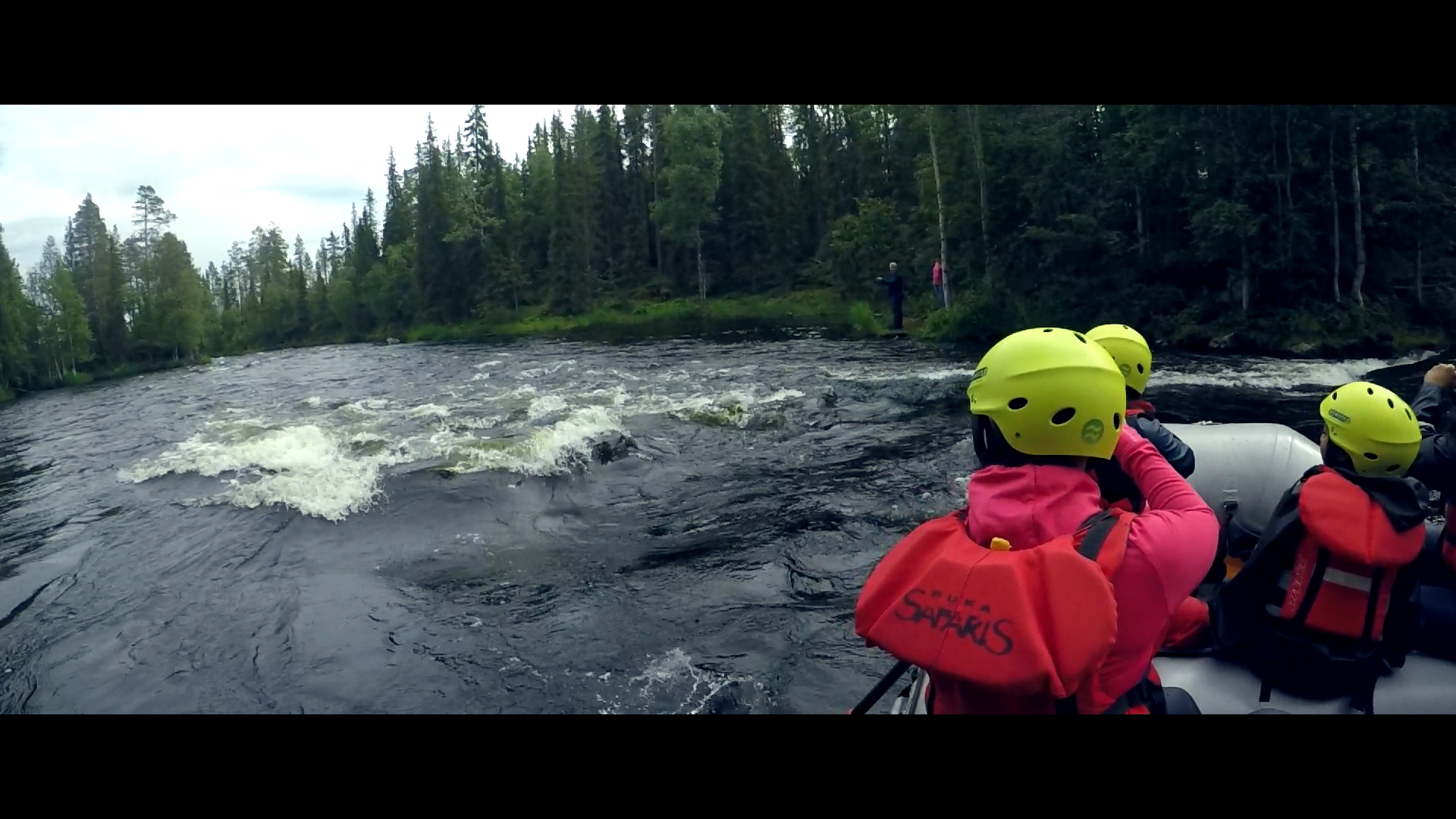 "Is this like a roller coaster ride?", asked my seven-year-old son. I replied "Yes, it is". I could clearly see from his face that he was way too excited to accept any other answer from me, but I knew that this was not an amusement park ride nor it was set in a completely controlled environment. As a matter of fact, I was as excited as he was, as we were getting ready to tackle a Class-3 rapid in the Kitkajoki River close to the Russian border in the Finnish Lapland.
The challenges
My seven-year-old boy and ten-year-old daughter are not what you exactly call ideal travel partners. They whine and crib when they get irritated or if they feel bored or hungry. As I listed down the plan that I had created for the coming summer vacation, my wife asked, "Are you sure?". I had to give her an answer good enough to convince her that we could do this as a family and it is very much possible. "To become good travelers, you need to travel, explore and experience new places and things, and traveling brings out the best in you. Let them start from a young age", was my response.
To be honest, we had high hopes for the trip we had planned for the summer vacation of 2020. This is in fact the first long road trip within Finland (where we have been living and working for the last 10 years). An important point would be that being a seven-year-old, my son is almost in a position to understand what we're doing, what he's doing and what we are all up to, so that he can behave like a little gentleman rather than a little monster rampaging around.
When it comes to my 10 year old daughter this trip also served another important purpose. It was to see whether she can survive without her mobile phone for more than a week. Yes, it is a highly debated topic in the modern world among parents about how often or how much a child should use their mobile phones. In the current situation, when their classes are on tablets and laptops, and when they are not in a position to go outside to the parks or playing fields to engage with their friends, we cannot complain much. In that context, this trip which lasted around 7 days would clearly give them a break from their usual digital only life.
I had done my part by planning and booking different activities during our trip. But then that would be something to jot down in my own travelogue but this article is about how my kids helped us and made this trip a successful one.
The planning
After reading in some parenting blog about involving children in the day-to-day activities as well as in the planning of anything important that you do as a family, we made sure to reserve some time, two days before the trip so that we could get together as a family, in front of a big screen so that we could show the kids on a map where we are going, what are the activities that we are going to do, how long we will be doing it for etc and also to give them some responsibility or the other, so that they also feel being part of this trip.
On top of this, we had generally divided the trip into two main adventures so that the kids could get their head around it. I had already handed over the responsibility of making a playlist of songs( at least a hundred of them) because we had a lot of driving to do, as we had to drive all the way from the south of Finland to the northeastern part in the Finnish Lapland. When my son came to know that his big sister had the responsibility and was in charge of playing songs, he wanted to know what his responsibility was. We made him responsible for the water and snack distribution during the trip. According to him that was the most important responsibility during the trip, as according to him, "We will die if there is no food and water, so I am incharge.".
I introduced my children to the details of the trip that we were about to take including the fact that we would travel all the way across Finland to reach a place named Ruka in the Kuusamo region of Finland. All the details that I gave about how long the drive was etc. went over them till the point when I mentioned that after central Finland, we have to watch out for moose and reindeers on the road. When I mentioned that, these animals might jump onto the road any time and there is a chance that our car could get into an accident, they split the responsibility of watching out for reindeers on the right side and left side between themselves.Another responsibility and another activity to keep them engaged!!
The destination
Initially after checking regarding the activities near Ruka in Kuusamo where we were off to in the Finnish Lapland, I managed to get a lot of information about different activities in winter. The winter activities included watching the Northern lights, husky dogs sledge rides, snowmobile safaris etc. Even though I was disappointed initially, on digging deeper I came to know about the different summer activities that it offered. Kuusamo is where the Oulanka national park is situated and is famous for its rivers, rapids and the beautiful viewpoints overlooking the Finnish taiga forests. More about it later in the part where we trekked, the "Pieni karhunkierros".
Important links
Getting here
Kuusamo is well connected from Finland's capital city of Helsinki. Even though it is a small town, it has lots to offer. There are many big shopping centers and stores here, so finding things to buy shouldn't be a problem. Owing to the popularity among the Finns, it's a very well connected location. In winter, there are a lot of Russian tourists who visit this place as well.
By Air
FInland's own airways Finnair has daily flights to Kuusamo. As Kuusamo is a popular place for the Finns especially in the winter, the cost for this 1 hour flight can be astronomical during the peak times. Ruka is just 30 minutes from Kuusamo airport and you can either take a taxi or your place of stay can arrange transportation at an extra cost. In case you plan to move around a lot, there are a few car rentals here and in Finland usually the cars that you get when you rent are in very good condition.
By Car
Another option is to drive up North to Kuusamo all the way from Helsinki. This will take around 8 and a half hours. There are some good places to visit on the way and as Finland has pretty well maintained roads, it should be a long but easy drive. Another important thing to note is that Finland is generally a very flat country without mountains or hills, so there are steep roads to drive on.
The Journey
Around 850Km from the Finnish capital of Helsinki, Ruka in Kuusamo is one of the most well known ski resorts in Finland. One more interesting point is that Ruka is only around 40 to 50 km away from the Finnish Russian border. With reindeers roaming around freely everywhere it's a challenging task to drive around in the area. You should always be on the look out for reindeer herd crossing. There are many accidents that happen in the area and mind you in Finland when you take automobile insurance reindeer and moose collision cover is most probably included by default.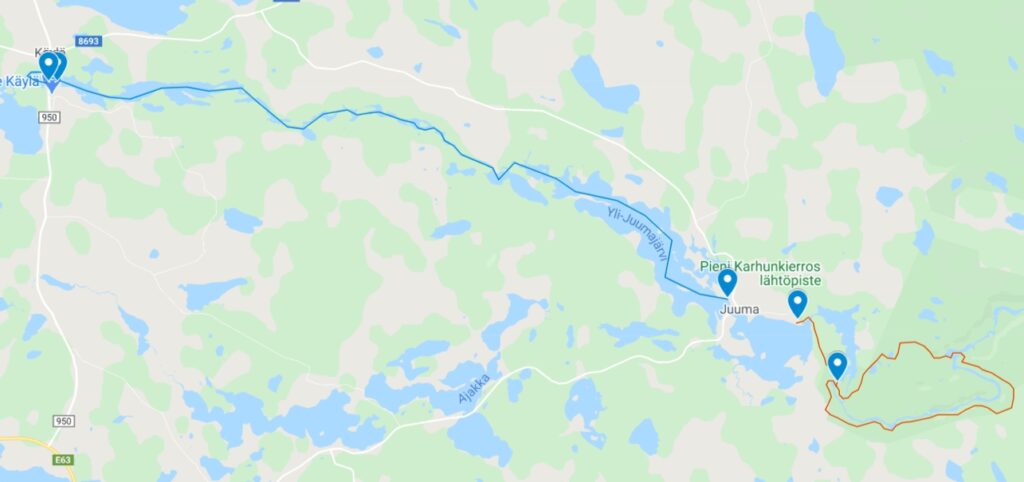 The route map of the two activities that we would be taking up. The blue represents the white water rafting route and the red one shows the Pieni Karhunkierros trekking route.
White water rafting in river KitkaJoki
Finland is known as the land of the 1000 lakes, and in fact it has more than 1000 lakes, 187,888 to be exact !!!.Owing to its geographical location and unique geology, Finland is mostly rocky and flat. There are many rivers up north which mostly flows into Russia and Kitkajoki river is one of them.
The landscape up here is different from the rest of Finland. It's much more hilly and mountainous. This provides a lot of rapids which gives an opportunity for adventures. In summer white water rafting was listed as one of the best things to do. After checking with different tour operators we chose Ruka Safaris. I had double checked whether it is safe enough for my children to participate in and from the reviews and few other experiences it seemed so.
The rafting activity was planned for the first day of our trip. We kept it as a secret from the children. The only hint we gave them was that the activity included water and would be fun. They were expecting that we would take them swimming in a lake nearby and never expected to go rafting. When I showed them a video and revealed to them that we are going for white water rafting in a river, they were excited beyond measure. After the initial excitement, my daughter came and clarified after a few minutes whether it would be safe. I assured her that we will be there with them and it is perfectly safe. My 7 year old son is not big enough to think about the dangers involved.
Our activity was planned for the afternoon and we reached the Ruka Safaris office well ahead of schedule. We filled up the names in the safety forms and we were greeted by our guide, Kalle. He briefed us about the attire that we need to be in and mentioned a few things about how this would pan out. We will need to go on a 20 min drive to the place where we will start our rafting trip and the whole trip will take around 3 to 4 hours to complete. He instructed our children to make sure they empty their tanks before the start the journey, mostly because in case we are wearing the rubber suits to keep us dry, it will be difficult to take it off. We were given warm socks, rubber boots, rubber jackets, rubber trousers and helmets. As it was a warm July day, he warned us that it can get hot while waiting and during the van ride. The next thing we put on was the life jackets. Just before starting the drive in the van, Kalle just made sure that all of us had the helmet and the life jackets on as the rest of the things were just for keeping us dry. Interestingly the rubber raft that we would go on, was fixed on a trailer behind the van we were travelling in.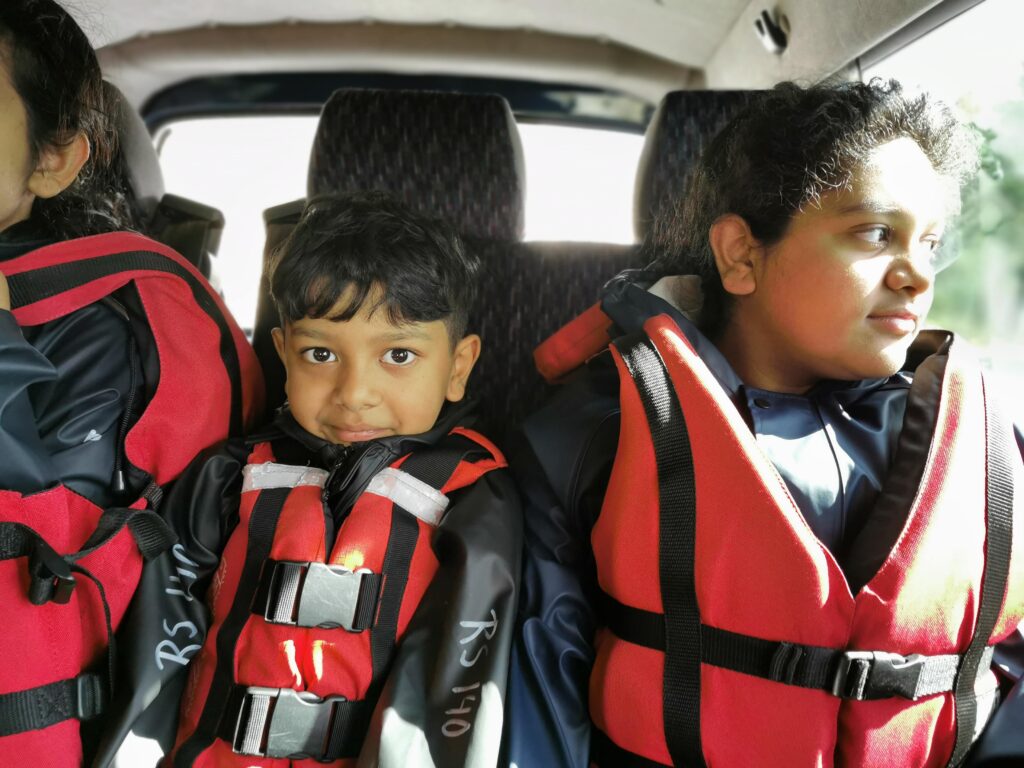 All dressed up and ready for going rafting.
Difficulty and distance
After travelling about 20 minutes we reached near a small bridge with parking and this is where our rafting trip would begin. On the other side of the road we could hear a rapid, but the place where we would start had much more calmer water and that seemed to be the place where we would practice. After pulling the rubber raft into the river, we had to hand over our phones so that Kalle could keep it in the drybox on the raft. Once after double checking that the life jackets and helmets were fastened correctly our safety briefing and training began. Interestingly all the questions were directed at the children first and clearly it peaked their interest and excitement about what was going to happen next. It was important that they listen to the briefing correctly as this whole activity was a team job and almost everyone had to paddle to get through the rapids except my son, as he was not tall enough and wouldn't be able to reach the water with the paddle. He was disappointed about it but we made it up as he got the front seat, with the best view.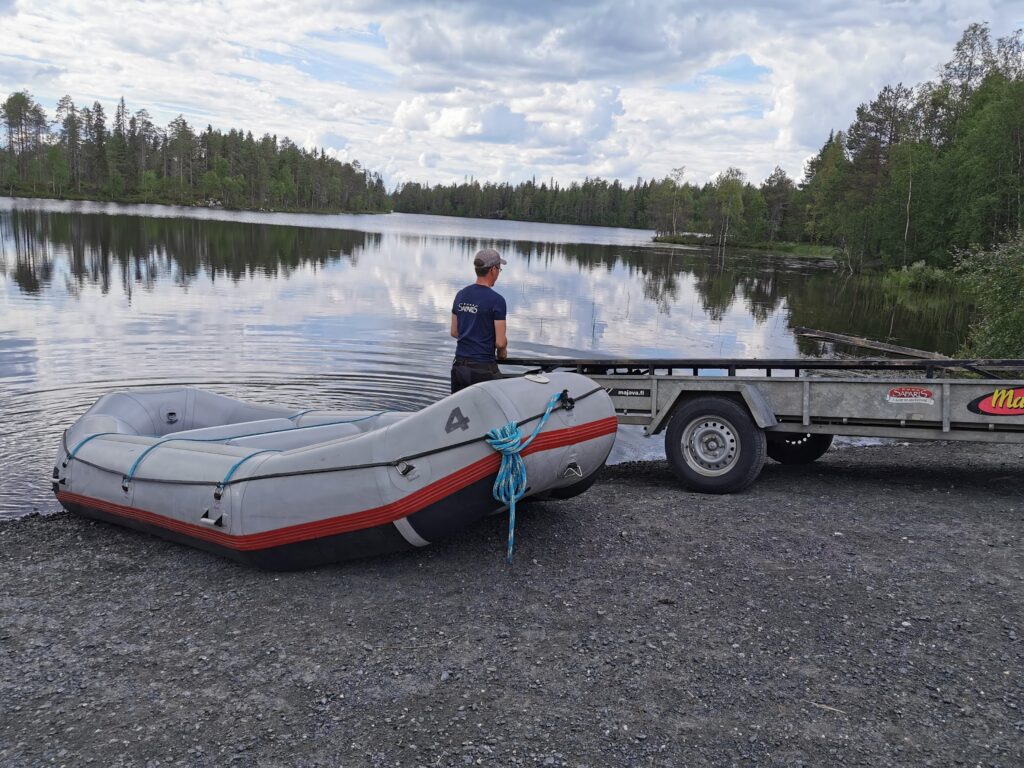 The rubber raft being pulled into the river
Smaller children as mentioned are not allowed to paddle and they get to sit in the middle of two people who are paddling. Everyone gets a foot lock on the raft floor to lock their foot in so that you don't accidently loose footing and fall off into the water. Having this foot lock allows you to go low and reach the water and paddle properly without falling down. In case you manage to get your foot loose and fall off, there are the safety ropes around the raft that you can hold on to. Safety instructions included steps to be followed on what to do in case someone goes overboard and had to be reeled in either using a paddle or by using a rope. Extra importance was given to the steps that need to be followed on how to keep floating in the water if you fall overboard. Like how when pulling you in, we need to come head first towards the boat.
The paddlers had to follow clear instructions from our guide about which side paddles. For eg: "All paddle", "Right brake", "Left Brake" etc were some of the instructions. The seating was done based on the weight distribution and my wife was sitting in the front right, my daughter in the front left and my son was in the middle, with the best view of all. I was placed in the back and had to shift between right and left based on the rapid and weight distribution needed.
We would be covering a total distance of around 15+ km downstream the river Kitkajoki while tackling 7 rapids along the way. The rapids are classified from Class-1 to Class-6 in the range of difficulty with Class-6 being the most difficult. Class-6 rapids are mostly waterfalls which if not done carefully can result in death, according to our guide. We would be covering 3 Class-1 , 3 Class-2 and 1 Class-3 rapid. It would be good to note that, tour operators in Finland can take families with children only in rapids upto Class-3.
The route and rapids
As mentioned, the river Kitkajoki (joki means river in Finnish) flows all the way from Finland into Russia at some point our guide mentioned as a joke that the Russian border is only about 20 km from here and I'm not sure whether we all are welcome there. As mentioned, we would be covering 7 rapids along the way and before the last two we would stop at a typical Finnish Cottage (Mökki) along the way, where we would have some hot drink and some Finnish snack before we continue to the biggest Class-3 rapid along the route. The break we took also gave us an opportunity to trek a bit through the forest, pick some blueberries and see the rapid from the banks of the river.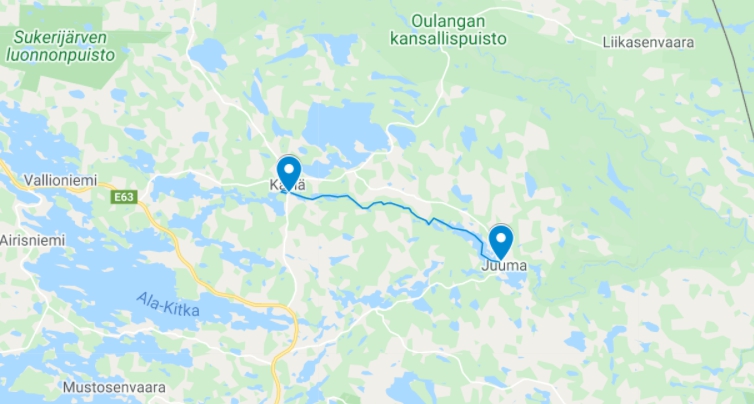 The blue line represents the river rafting route
We would start off with a Class-1 rapid after our training. Just before we went into the first rapid, our guide mentioned that even though you would feel scared, you should keep smiling as there is a cafe by the river banks and there would be people taking pictures of you. This cafe named Leena's Koskitupa is situated next to the rapid and offers a spectacular view of the river and offers wooden piers to do fly fishing from.
The first rapid even though it was Class-1 took us by surprise to tell the truth. When you say Class-1, we expect a bumpy ride but, the euphoria of getting wet from the splashing cold water and being thrown up and down is something we were not ready for yet. Once we were done with it though it was something really amazing to look back on to. I remember my son looking back at me and shouting out, "That was so cool !!".With one of the rapids done and excited about what is up ahead, we had to switch to a motor on the raft to get us to the next rapid. This would take around 20 minutes and gave us an opportunity to get to know more about the surroundings from our guide.It was surprising to know that we could drink the water directly from the river as it was clean. Also came to know that one of the main soda brands in Finland has a bottling plant downstream and it the water from this river that we drink as soda and bottled water.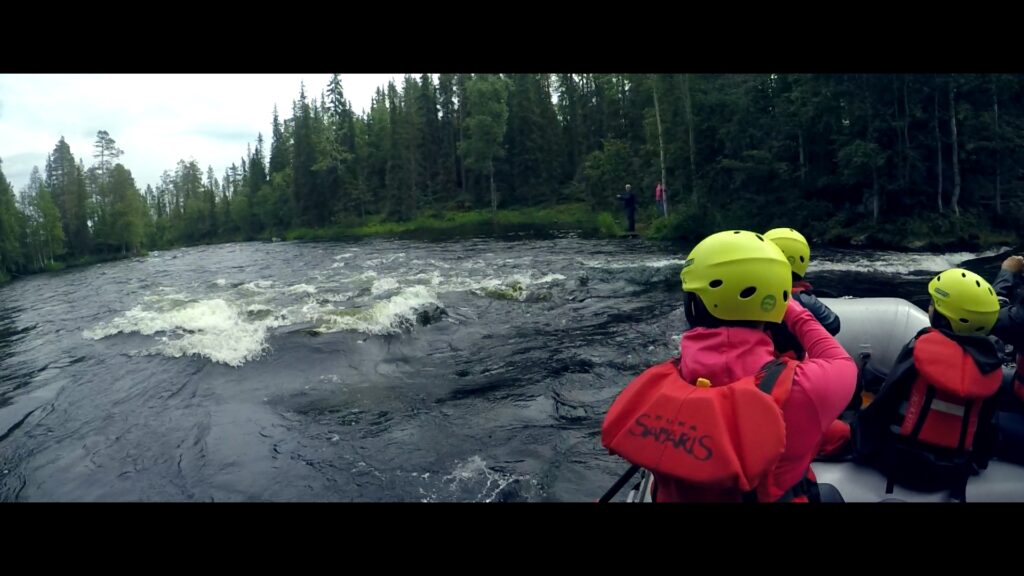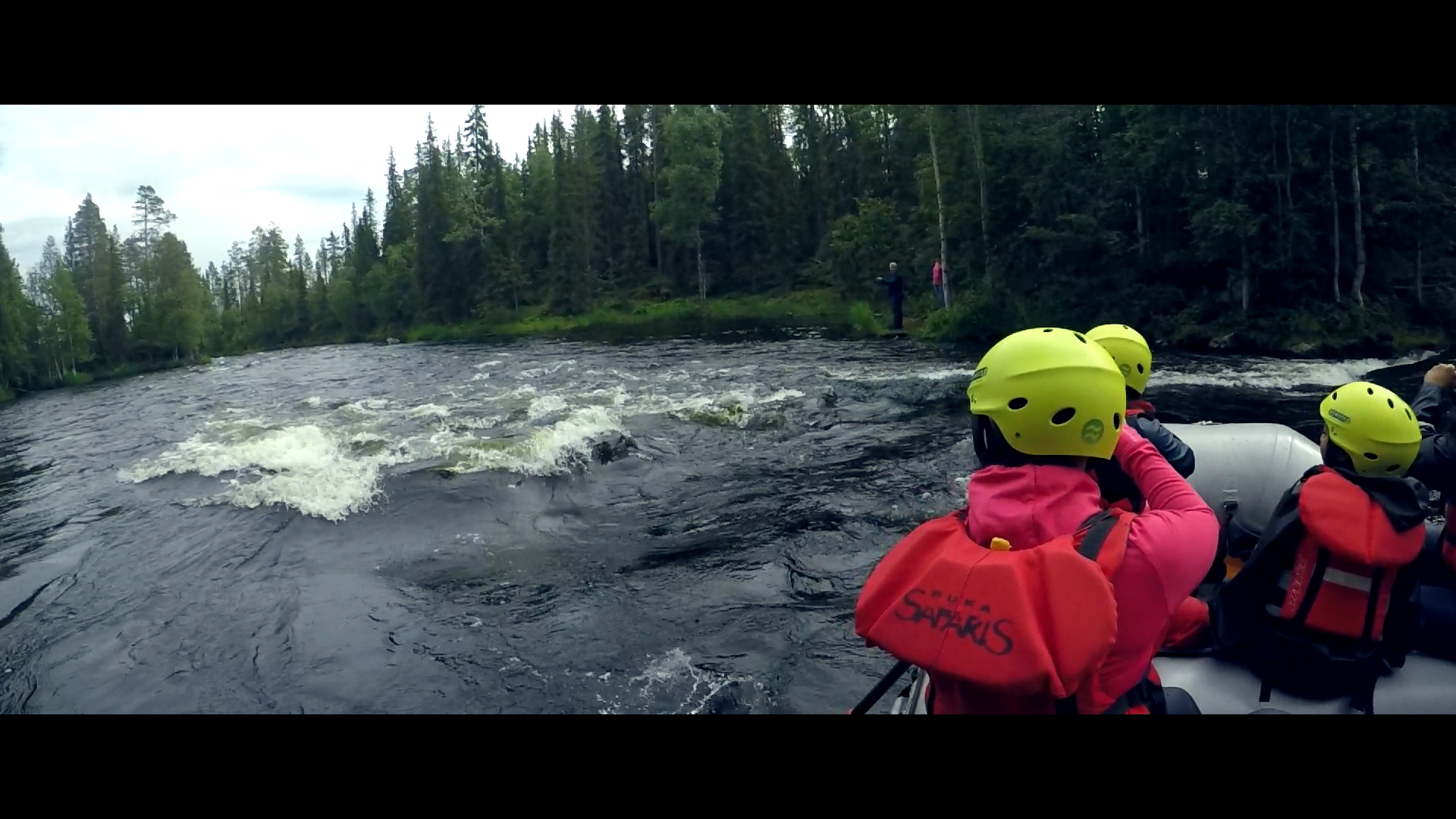 Screen grab from the GoPro footage of one of the Class-2 rapids
The river through which we were going was very well known for fishing among the locals and tourists. Owing to the many good fishing spots along the way, we could see many people doing fly fishing. The next rapid was also another Class-1 and we tackled it together as a team. I had to change my position on the boat to adjust the weight distribution. I could see that my little one who was holding on with his dear life to the safety line during the first rapid was a bit relaxed now and was raising his one arm in excitement while we were going through the next rapid. I had to remind him, but I am sure, he was too excited and didn't hear me properly.
Each of the rapids which came after that had us working together as a team and paddling based on the instructions of the guide. Our paddles would hit the rocks under the water as in many places it was quite shallow and it was only about 25cm depth till the rocks on which the water was flowing.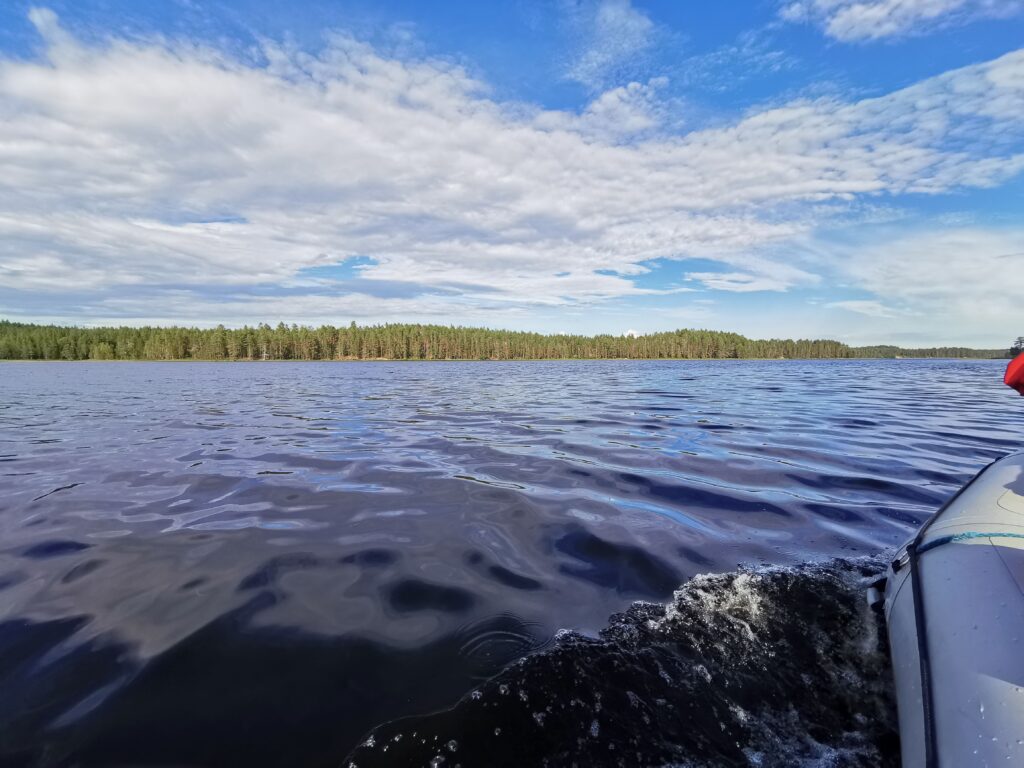 The view from the rubber raft along the lake Kitkajoki, when we were not negotiating the rapids.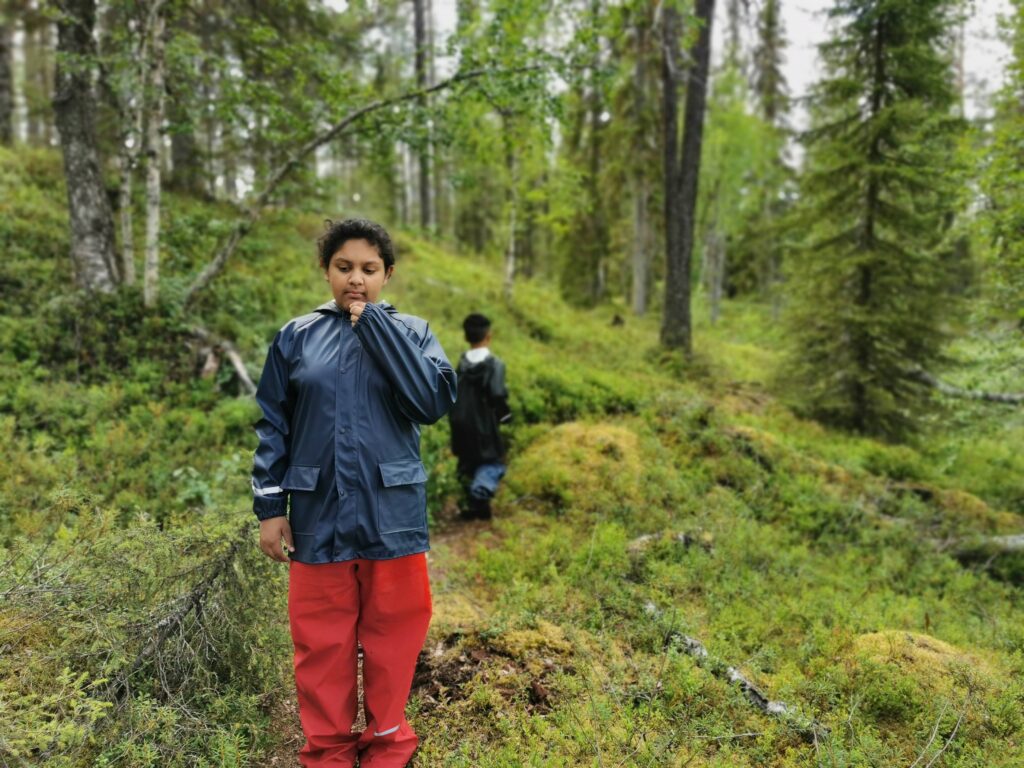 "Trekking in rubber clothing is fun as long as I can pick blueberries and eat"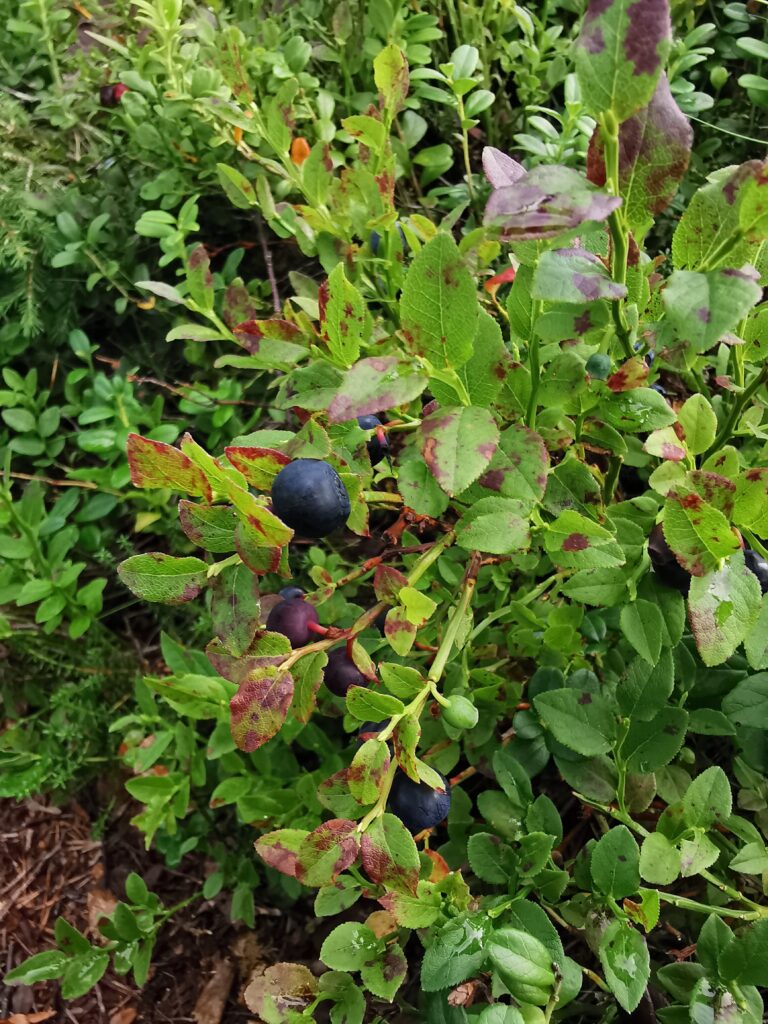 Blueberries where everywhere, ripe to be picked up and eaten
After the fifth rapid, we were exhausted as well and it called for a short break. We pulled in the raft to a small opening in the forest where there was a typical Finnish style, wilderness hut with a fireplace in the middle. We could hear the roaring sound of the next Class-3 rapid down the river and as it was just around 400 meters from the wilderness hut, we decided to trek down to see it up close. The forest floor was wet and quaggy, and felt like a sponge to step on and the path we were walking through was full of blueberries bushes in it. We were picking it up and eating it along the way. Let me remind you about the mosquitoes as well. Finnish Lapland is notorious for its mosquitoes and to say that there were a lot of mosquitoes would be an understatement. So if you ever visit here during summer months, be sure to carry mosquito sprays.
We had time to see the rapid which was coming up and there was a small clearing with a small tree in the middle. After taking some photos we headed back to the hut and by that time our guide boiled some water for the coffee. We were served the hot drink in a typical Finnish mug called the "Kuska". Even Though the original ones are made out of wood, this one was made out of recyclable materials.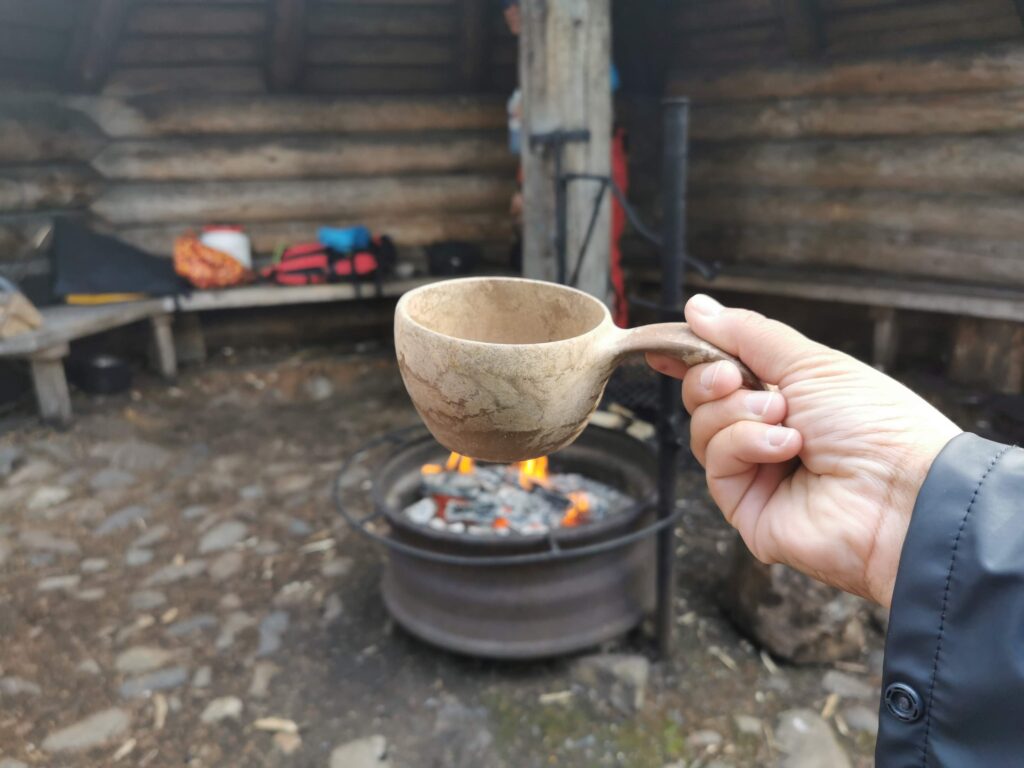 The traditional Finnish mug called the "Kuska" in which we had our drinks served
After some hot coffee, hot drinks for the children and a Finnish cinnamon pastry called the "Pulla", it was time for us to continue to the next rapid.
"Is this like a roller coaster ride?", asked my seven-year-old son. I replied "Yes, it is". I could clearly see from his face that he was way too excited to accept any other answer from me, but I knew that this was not an amusement park ride nor was it set in a completely controlled environment. As I had seen it first hand, I mentioned about the small patch in the middle of the river with the tree, to our guide. He mentioned to us that we need to go on the narrow right side of it as going on the left will make it a Class-4 rapid because of the rocks and currents, and we are not supposed to go there with children or inexperienced paddles on board. He reassured us that it's going to be safe as long as we follow his instructions correctly.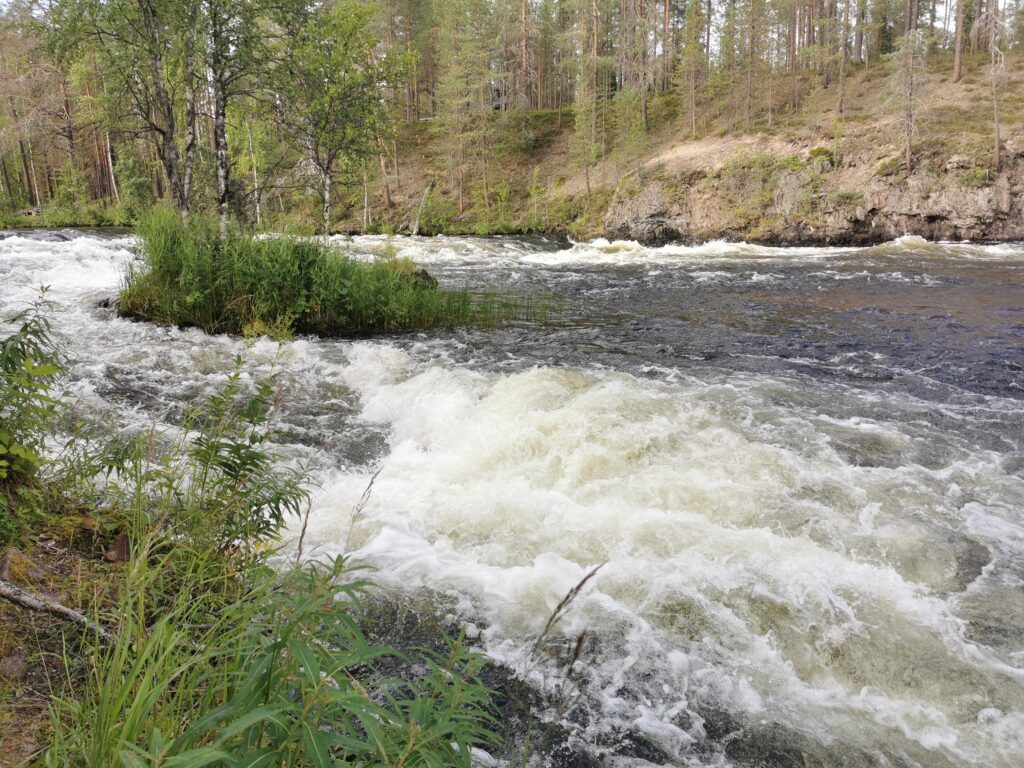 The Class-3 rapid from the banks. We had to navigate our raft through the small gap between the land patch and the bank.
The Class-3 rapid was a beast on its own. As we carefully paddled throughthe right side of the river, I heard my daughter mention to my son that it is going to be a bigger one than before and he better hold on tight. It was reassuring to hear her say that to him as a parent. As my daughter was up front on the left, she will be the one who will be taking the grunt of the rapids frst wave which was almost 2 meters high and hearing her advice my son, I was at ease about her as she understood the magnitude of the task ahead. Right before the rapid, our guide shouted "All paddle!!", and thus it began. The first part of the rapid, made the raft gain speed and within seconds as though it hit a bump, our raft went up high in the air splashing cold water all over us like never before. The raft immediately changed direction as it turned right and we were going into the next wave sideways. With left side paddling and right side braking, the raft turned straight again after we went up the next wave. There were a few more waves to tackle up ahead but surely it was much more difficult than the previous rapids we encountered. We could only guess how difficult it would be to tackle a Class-4 or Class-5.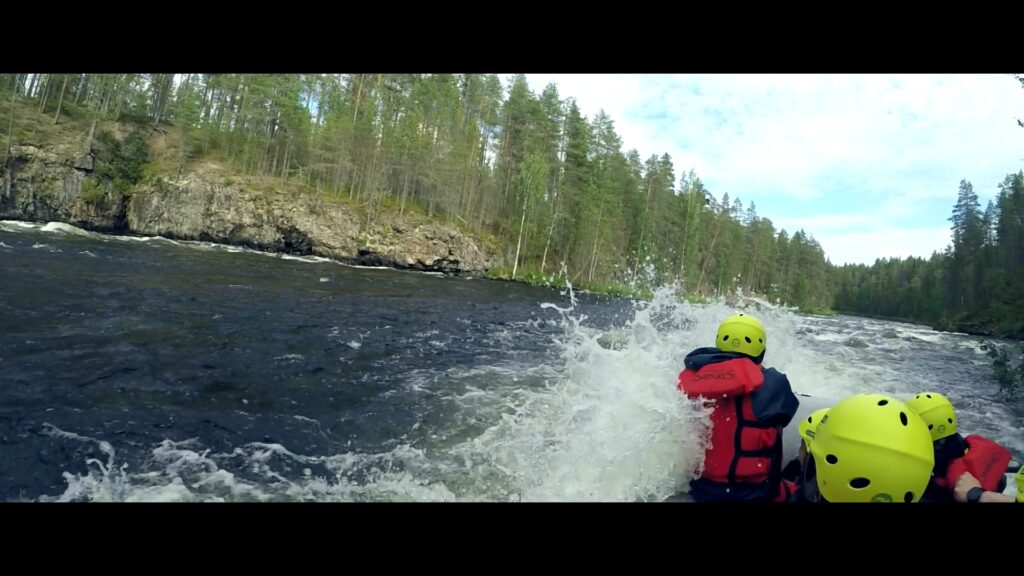 A screengrab from the Go-Pro video from the helmet mount, from the exact moment when the rubber raft was tackling the Class-3 rapid
The final rapid was Class-1 and as we had just tackled a Class-3, it didn't seem like much now. I remember our kids shouting , "Can we go back up again? Please " to our guide right after he mentioned, we are done for the day.
With our whole body wet, we now had a 15 minutes ride to the place where we would be picked up before we headed back down. This ride was really nice, as it took us through the calm waters of the river, which was now really broad and was a stark difference to the narrow gorges through which it was flowing just minutes earlier.
What to take
The rafting opens every year right after spring, after the snow and ice has melted. When you go for an experience like this and if you are interested in capturing the whole experience on film, taking a phone alone would suffice, as during the ride it is not safe to hold the phone anywhere with you. You can have the phone only when you take the break at the wilderness cottage.It is best to carry an action camera like Go pro with you. The rafting center has helmets with Go-pro mounts which you can use. Either that or if you have a chest strap which can hold a go pro that could be ideal.
Additional tip: Record your footage in at least 120fps to capture the action and give it some dramatic justice. When you slow down the footage, it gives a whole new meaning about the experience that you have just had.
The other thing which would be good to carry with you is a Mosquito spray. The time spent on the break is so little but without a mosquito spray it can be a bit unbearable.
Based on the month you are going rafting and based on the temperature, the rubber suit is just optional. Please mind that you are going to get wet, from head to toe, so if that's ok and if it's warm, we would advise you against the rubber suits on a warm day as it can really get warm and sweaty inside. If it's one of the colder months please make sure you wear the rubber suit to keep yourself warm.
Recommended Gear:
Action camera like a GoPro with either chest strap or helmet mount. Recommend a helmet mount in case you are sitting in the middle or in the back. You won't be able to handle a camera by hand for sure. So forget DSLR or having a phone in hand.

At least one phone, which you can keep in the dry box in the raft. The camping spot where you take the break offers some good views.

Insect repellent sprays

If not wearing the rubber suits,be ready to get wet

In colder weather, please wear the woollen socks before putting on the rubber boots, it helps a lot to keep you comfortable.The rafting center offers a few, if you ask.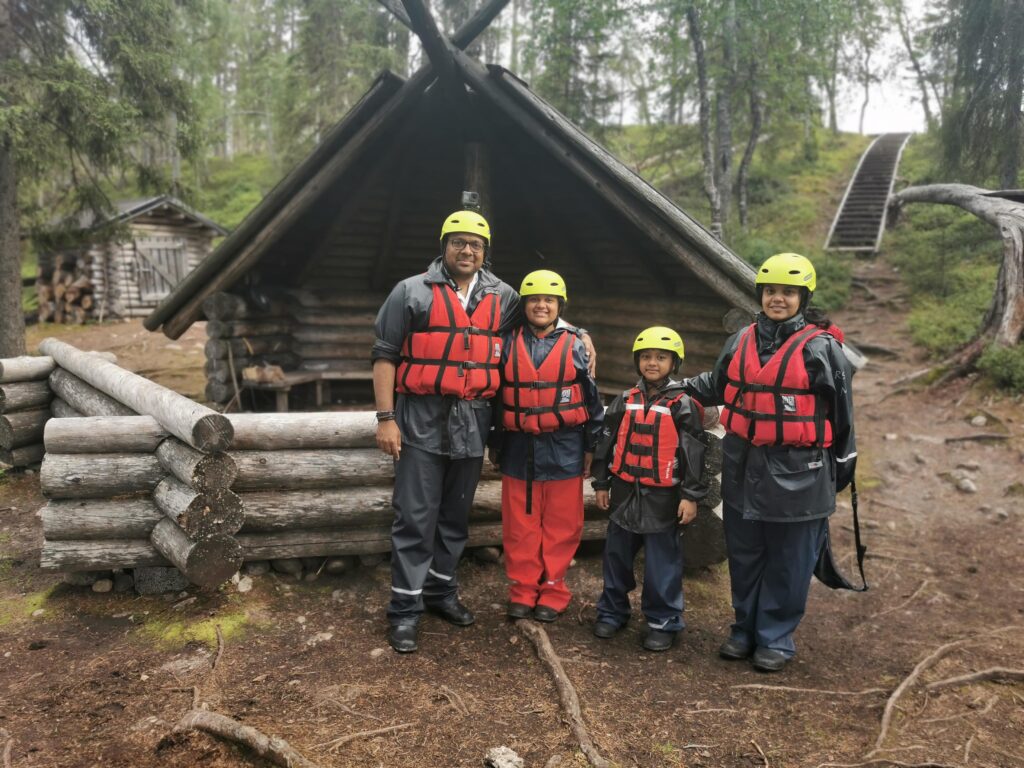 Important Links
https://www.rukasafaris.fi/en/

:

This is the agent with whom we booked our white water adventure with. They had nicely maintained place and equipment, with friendly and helpful English speaking guides

https://rukasafaris.fi/en/weekly-program/summer/river-rafting-whitewater-fun-for-all-ages

:

This is the white water program that we went through.It is ideal for kids

https://leenankoskitupa.fi/

The cafe next to the rapids offers spectacular views and a place to do fly fishing.