Productivity – Evernote vs. Wunderlist !

So lets see.. Evernote vs. Wunderlist..
To write this article down , I had a task created in Wunderlist and in fact I am drafting this in my Evernote editor. That is how these two should work together.
Productivity
Productivity is something that you need to do and it just doesn't happen to you . May be you are in company of highly productive people at work then things at work will
falls in its place but you might lag on your personal tasks. I am some one who believes that , at any point of time in your personal career if you are not working on any personal project then you are not treating yourself well, and that means tracking progress of things. In case you are already doing it without proper tracking, start doing it. It helps a lot. and it takes only say 20 to 30 minutes of your daily time.
Some might disagree and they should be a minority. For majority of us , we need to help ourselves to stay on track and this article is a culmination of that effort to finalize some tools to help me sort things out.
Circa 2006
Cards were my weapons, empty business cards where I used to write down tasks and carry them in my pockets one or two for the tasks , and another couple to write down anything which was important. This was my first task management system, but this could get me any information from the internet. The first time I had to write down an url on my card , I decided that I have to change the system with which I track tasks down.
8 years have passed, I have been with many productivity tools. Even now I can log in to some of the tools and see few orphan tasks which I have created and left as the system just didn't work. There were many tools on the way, many colorful and comprehensive tools which advertised so many ace features which stood out. Many had interesting pricing plans, many were in beta phases which evolved to be paid version during this time. All through this I was going on from one tool to another to find the right one. I read GTD and got hooked to it. Many many methodologies came and went. Read so many articles about different ways to track tasks.
On the way I came across some interesting things which could be used to organize yourself and your family. Two things worth mentioning are as follows
Read an article about SCRUM method in managing family with super active kids. This was quite interesting as the kids have tasks to complete and the family will have a scrum call every day over breakfast to keep on track.
An A4 sheet could be folded in some special ways to create a booklet to track tasks and calendars. Didn't quite work out that well as for me, this one.
Pretty interesting what the internet can offer .
I stuck on to GTD, contemplated on the idea of doing it right in the modern world with all the tools. Now I believe I have arrived and this article is for that.
Evernote and Wunderlist is what I finally arrived at. I am not going to show the pros and cons of every tool that I went through these years, but this article is just to give a glimpse of what I am using now so that some one out there starting out or looking out for a good system to follow don't need to do the research again.
Over the years , there were many articles which featured comparisons between similar tools and Evernote vs. Wunderlist is something which we have seen even before like Springpad vs Evernote and more about the Kanban visual planner Trello
But then its always about each individual's taste , choice and interest.
One important factor which I saw as a problem was the cost of the plans of many tools. I agree that the paid version are for the hardcore users, who churns out Gigabit of their own every day , but I don't see my self as a hardcore user I use it , and I use it minimally, but it serves my purpose.
Evernote vs. Wunderlist
So let's have a look at the tools now.
---
Evernote: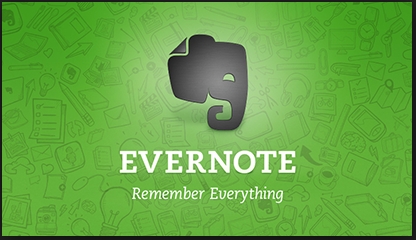 A pretty useful tool, not without its occasional downsides. Much useful to save anything and everything you want to save. Everything is saved as a note and you can put anything in there. Audio, video and ink note as well. (They come in with a handy tool called Skitch for image annotation, which I didn't find much useful separately , but when they integrated with the screenshot tool its much useful)
Even though I was a paid user for a year , the free plan is adequate for a normal human to track every thing he wants and save everything he wants on month on month basis. Yes there are some feature which come with the price but if you need more space , buy that alone.
The elephant logo is the one which has caught me from start and it related easily to the everlasting memory of and elephant and that they don't forget anything. Reminded me of some elephant stories which mother used to tell when I was a kid about how elephant used to remember anything if you did something to them. May be a way to keep me away from them , as though the size didn't scare me enough.( In case you are wondering I come from the state of Kerala in Southern India , where elephants are not that rare after all)
I have proposed this to some one and he is a much dedicated paid user of this tool now (if Evernote team is reading this). I can't give you a tutorial on how to use it here , as everyone will develop their own way to use it. Its efficient on your PC or laptop as it doesn't eat much into the memory and processing power. It takes about 40 to 50 Mb of RAM and not many CPU cycles.
Download Evernote here
---
Wunderlist:

From the German team of 6Wunderkinder , its as clean and elegant as any German car is !!.. (did I just over hype it a little there?) no it should be worth it I guess , because it does very well it promises and its clean , efficient and very user-friendly.
A task tracker , when opened should give you a snapshot of where you stand and not just a list to tick tasks which are done. If a mail comes for which I should respond to, I can create a note with in Evernote as well as a task with it in Wunderlist because of the extensions to it on major browsers.
Even though Wunderlist doesn't have an app for the Windows phone which I use, I find this much useful on the internet browser or on its independent app for windows PC.
Its clean and doesn't give you much options (!) and that is one of the most important things I like about it. I tried a many other tools which are almost similar in the UI and the fields it gives options to fill in , but this was minimal and provided what ever was only required. It didn't allow me to customize it too much and told me to stick to some particular ways to track tasks and stuck to it and liked it. Too many options are bad I suppose, we waste a lot of time trying out these options.
I daily spend around 20 to 30 minutes to track tasks in Wunderlist, adding tasks or details to it now and then on a browser screen. Compared to this Evernote is in use all the time and when ever I get some interesting info like code snippets or ideas , I tag it immediately and create a note. If there is a task related to it in Wunderlist, I add an evernote link to it.
Download Wunderlist here
Never loose track with Wunderlist and Never forget anything with Evernote.
Evernote recently added reminders to the notes, but the adding check boxes to check at the end of the day to track tasks didn't work for me earlier and even now even with reminders.
Lets not dig with a spoon and eat with a shovel, each tool has it own purpose , let it serve its own. So, Evernote vs. Wunderlist , should have been Evernote and Wunderlist together !
These are my personal comments and anyone can comprehend or support my views on Evernote vs. Wunderlist.
Featured image : http://pixabay.com/p-297195